Size
***This is a hidden product used with the Product Options application, Please do not delete this product.***
Here, at Kings of Neon, we make our neon signs out of high-quality LED flex. We do it differently compared to other neon sign suppliers who utilise the more traditional glass approach to manufacture their signs.
Using LED flex makes our neon signs more cost-effective, robust, and much safer to have in your home, at an event or wherever else you hang your neon signs up. That's how we keep our products kid-friendly!
Our neon signs are powered by LED lights and are mounted on an acrylic backboard in the colour and style of your choosing, making them the most personalised signs you'll ever own.
Kings of Neon creates memorable, eye-catching, neon signs for every occasion. We make signs that are durable both indoors and outdoors, so you can create statement pieces for any event or location. In addition to these features, we also offer UV printing to complement your illuminated sign.
As a leading neon sign supplier that aims to bring your neon-lit dreams to life, the installation process for a Kings of Neon sign (both directly from our store or custom-made) is straightforward.
All our neon signs plug directly into wall sockets and don't include a battery pack. With the delivery of your sign you will also receive:
A 1.5m long, clear cord that comes attached to your sign. The length of the cord will depend on the size of your sign.
An adaptor and transformer (compatible with your region) with a 1.5m long cord that connects directly to the clear cord.
Our neon signs enjoy a light-span of 50,000-100,000+ hours!
Kings of Neon is dedicated to offering you as many customisation options as possible. We are proud to offer our customers up to 24 different colours to get #lit with!
Please note that not all of our neon signs are white when not illuminated. However, you can also choose to customise the colour of your unlit sign with our colour jackets.
The Kings of Neon warranty covers all faulty items as long as our customers have treated their neon signs with the appropriate care required for long-lasting illumination.
Our indoor signs have an 24-month warranty, while our outdoor signs come with a 9-month warranty.
At Kings of Neon, our customers are #King. All of our custom, neon signs made to fit your unique vision and requirements are handmade to ensure that we get all the details right.
We make sure all the specifics of your design, including exact measurements, have been approved by you before we get to work, making your vision come to life.
All of our neon signs are also subjected to a rigorous quality assurance process to make sure that the final product we deliver to you lives up to our high-quality standards and safety regulations.
The durability of our lightweight neon signs makes them easy to transport and display - so don't be afraid to pick out the ideal spot for your sign well in advance!
Kings of Neon makes displaying your signs easy by pre-drilling holes into your product before delivery. You can put up your sign as soon as you receive it with the help of some heavy-duty hooks, nails, and well-knotted wire!
We also have alot of our customers using Command Strips or Double Sided Tape as our signs are so light in weight!
Our signs generally weigh between 3-5kg. While they're light and easy to display, you should always do so with the utmost care and precaution to make sure your neon sign stays #lit for longer.
Your shipping costs will vary depending on the address and postcode of where you would like your neon sign suppliers to ship your order. Your exact shipping costs will be calculated at checkout.
We know how long the wait can feel when you're excited to see exactly how #lit your neon sign will be! Fortunately, you won't have to wait too long because we aim to deliver our high-quality, unique signs within 1-3 weeks of when you place your order depending on the checkout method that you have chosen!
If you have a deadline (or just can't wait that long!), you can choose to place a rush order for an additional fee. We will do our best to have your neon sign delivered to you within 6 - 10 business days of your order.
All non-custom, neon signs made by Kings of Neon can be returned and refunded as long as they adhere to the following conditions:
Your neon signs are unopened and remain in their original condition
Your return is made within 30 days of your purchase
Your neon sign suppliers will cover the cost of return shipping for all faulty products. However, if your return is the result of you changing your mind about your order, then the return shipping costs will be charged directly to you with a minimum fee of $149 to cover.
Contact us to facilitate your neon sign return.
Please note that because all custom neon signs are handmade to suit each customer's exact specifications, custom orders are not eligible for a return or a refund.
We're currently active in the United States and Australia but will soon be live in four other international locations! Contact us to find out more about our neon-lit operations in New Zealand, Canada, Dubai and the UK.
Contact the Kings Of Neon Team for all your business Custom Neon Sign and Corporate Led Neon Signage needs.
The team at Kings Of Neon has looked after National Rollouts for ASX listed brands right through to your local Fish and Chip shop.
The team are well adverse in achieving strict deadlines for events, shop fitouts whilst adhearing to strict branding guidelines. All whilst delivering the best possiblecustom neon signs to our vendors.
All Neon Signs Powered with Luminex™ or Splice™ Technology by Kings Of Neon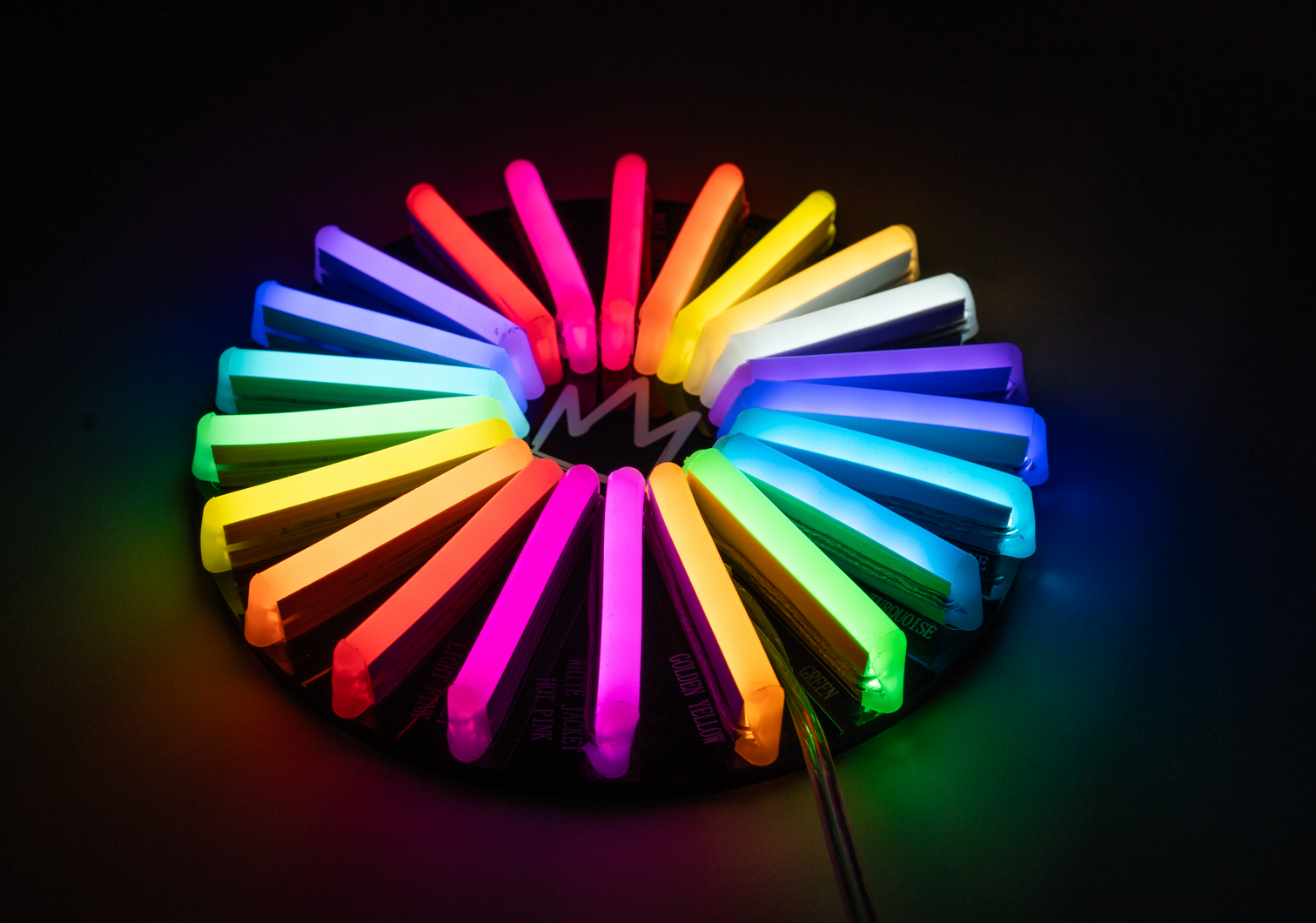 All the Colours of the Rainbow!
Luminex™ x Kings Of Neon
Luminex™ is the new standard of LED Neon - Offering 100,000+ Hours of Illumination with an array of different colour options.
Can't see the colour you love?
Kings Of Neon offers over 100+ Colours - Contact the team in the chat box or add a note to your order and the team will customise your sign for YOU!